⬅ Return to collection
Rock : 1970-Contemporary
This item has been sold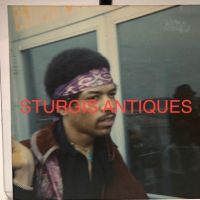 Circa 1969 Original and Unknown Snapshot of a Short Haired Jimi Hendrix At Airport
Circa 1969 Original and Unknown Snapshot of Short Haired Jimi Hendrix
What a find! An original and unknown photograph of Jimi Hendrix.
Looking at his style, necklace and of course his shorter haircut, I would put it around 1969. In May of 1969 he was busted with for Drugs on the Canadian boarder, and just a few months later he would be on stage at Woodstock.
Looking at these images from around this time you can see his small tight necklace, you can also see it in the snapshot as well. Take a look at his hair in the ridiculous and asinine drug charge mug shot, you can see the necklace there too and then a few months later in photos of his performance at Woodstock. You can see the same necklace and his shorter hairstyle there too.
Sadly in in Sept of 1970 he would be no longer and he would never see what his life and influence would unfold in the world of music and culture.
In the photo he is captured walking with his arm/ hand holding a bag, framed against a glass wall, most likely a airport since you can see what appears to be a run way in the reflection. There is no information on the back of the photo but it is an original photo. The Smooth slick paper with the fine texture on the paper, typical stock paper used for photographic prints back in the day.
Size: 3.5 x 3.5 inches
Condition: Near perfect with no visible damage and the image has very clean color, the image is slightly out of focus from the inexpensive camera a used. This is a amateur photographic snapshot not a professional portrait. In very good condition. Please see the images provided for more details.
If you have any questions or need more images, please feel free to contact me.
NOTE:
The shipping price is for US only, if you are an international order please contact me before purchase with your shipping address to get a shipping quote.
Detail photos Click to enlarge