⬅ Return to collection
[uncategorized]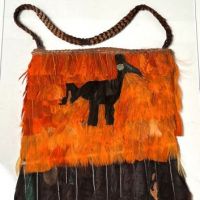 Circa 7th C. Nazca Chuspas Cocoa Pouch Peru Woven Course Fabric Under Feathers
Nazca Culture Chuspas Cocoa Pouch
Circa 7-8th C. Cocoa bag or pouch was used to hold and store Coca leaves for the Andean region of South America, Peru.
The Nazca culture, based in "southern coast of Peru in the river valleys of the Rio Grande de Nazca drainage and the Ica Valley. Strongly influenced by the preceding Paracas culture, which was known for extremely complex textiles, the Nazca produced an array of crafts and technologies such as ceramics, textiles, and geoglyphs. They are known for two extensive construction projects that would have required the coordination of large groups of laborers: the Nazca Lines, immense designs in the desert whose purpose is unknown, and puquios, underground aqueducts for providing water for irrigation and domestic purposes in the arid environment. Several dozen still function today. The Nazca Province in the Ica Region was named for this people."
The bag has a Tucan in black feathers with vibrant orange feathers over a woven course fabric with strap.
Condition: some light damage to the feathers from age and soiling on both sides. Please see the images for details.
SIZE: approx 8 x 6 inches
If you have any questions or if you need more images please feel free to contact me.
NOTE:
The price listed is for US. If you are an overseas buyer please email me your shipping address before purchase to get a shipping quote.
Detail photos Click to enlarge