⬅ Return to collection
Cabinet Cards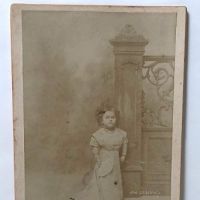 Circa Early 1900s Cabinet Card of Madame Mlle Coretta by Otto Sarony Cabinet Card by Frank Wendt Ringling Bros Sideshow
Circa 1900 cabinet card of Mlle Coretta, real name Ruby Belle Rickoff (1899-1212), who joined the circus when she was 4 years old and she died in a tragic accident on May 22. 1912.
The cabinet card is marked by (Frank) Wendt Boonton NJ but the image has the signature of Otto Sarony on the right hand side.
Otto Sarony (1850–1903) was a portrait photographer and the owner of a celebrity photography business and photographed countless celebrities of his day.
If the photo is by Sarony, it must of been taken the year she stated and the year Sarony died, 1903).

The card says she was 21 years old and was 21 inches high. Photographed next to a large gate pillar gave an exaggeration of her height or her diminutive height. As you will see with the timeline below, her age and height will fluctuate.
**In 1905, she was exhibited with the T.I. Cash Carnival Co. as a sideshow curiosity. At that point, she was entitled "Coretta, the doll lady" and described as "the cutest, sweetest bit of humanity ever born to live. … Weighs 16 pounds and only 26 inches in height"
**Around 1908 she joined the Ringling Bros. Circus
**"she was killed on 23 May 1912 after being thrown from a buggy in Kankakee, Illinois. Evidently, she had left Ringling Bros. for the Mazeppa and Greater United Shows circus and was riding, perhaps in a parade, with manager J.B. Warren when the horse took fright at a hat blown through the air and bolted"
Size: 4 1/4 x 6 1/2 inches
Condition: VF condition with some fading to the image but still very clear. The card is fine with light marks at the edge and light soiling from age. No marks on the back of the image.

If you have any questions or if you need additional images, please feel free to email me.

Note:
shipping cost is for US only, if you are an over seas buyers please email me your shipping address to get a shipping quote.

Detail photos Click to enlarge