⬅ Return to collection
Antique Furniture : 1800s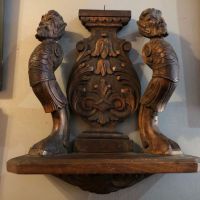 Circa Late 1800's Walnut Wall Shelf with Satyr Figures Grotesque Figures
Every once and awhile some amazing pieces are made that use and re-purpose furniture parts, here is a perfect example.
The piece is made of walnut, with parts from a circa 1870's furniture.
As you can see the main highlight is the mono ped Satyr type figure on the left and right. The back is carved support from a cabinet and the bottom under the shelf uses a old carving.
When I saw it, I thought it was great and I hope you do too.

Size: 19 inches tall

Condition: Fine with some pieces showing signs of repair. The back of the Satyr's leg has remains of glue and some slight wear from age. Please see image for details and a visual description.


If you have any questions or if you need additional images, please free to email me.

Note:
Overseas buyers will need to email me your mailing address to get a shipping quote for this piece. The price on the shipping is for US only.
Detail photos Click to enlarge