⬅ Return to collection
Antique Accessories : 1800s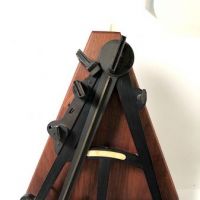 Circa late 19th c. Sextant Ebony Rosewood Construction Nautical Instrument
Circa late 19th Sextant Ebony Rosewood Construction
The Sextant was a the device, standard for any naval or nautical vehicle to navigate open waters.
"A sextant is a doubly reflecting navigation instrument that measures the angular distance between two visible objects. The primary use of a sextant is to measure the angle between an astronomical object and the horizon for the purposes of celestial navigation."
Thank the Arab's for the navigation by the stars.
"Modern times celestial navigation was discovered in 1837 by Thomas Hubbard Sumner when, after one observation, he computed and plotted his longitude at more than one trial latitude in his vicinity – and noticed that the positions lay along a line."
This "modern", circa late 1800's to 1900 Ebony colored Rosewood Sextant with inset Ivory scales. The numbers on the bottom are hand done with precision and detail and no mark is out of place. A very precise measuring device.
All the pieces are movable, but is missing one glass at the top left.
The Sextant is mounted to the display board, and is held in place by a slotted piece of wood. Note, one post is glued to the back arm of the sextant and the other has come unglued. I can not and have not removed the item from the display board.
Size: 14 inches tall x 11 1/2 inches wide
Condition: very fine, no breaks or damage to the insets. The sextant is mounted, glued with two pins on the bottom. One glass is missing on the top left. If you have any questions or need additional images please feel free to contact me.
If you have any questions or if you need additional images, please feel free to email me.

Note:
shipping cost is for US only, if you are an over seas buyers please email me your shipping address to get a shipping quote.
Detail photos Click to enlarge