⬅ Return to collection
Antique Accessories : Art : 1800s
This item has been sold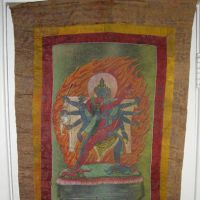 Circa 1800 Antique Tibetan Thangka Painting on Silk of Chakrasamvara Embracing Vajravarahi
Here is an image of Chakrasamvara embracing his consort, the red Vajravarahi. In Tibetan these two are Korlo Demchog and Dorje Pagmo. As a united pair they are a metaphor for great bliss and complete emptiness which are thought to be the same. They stand on two figures representing desire and excess.
This early 1800's antique Tibetan Thangka painting is on silk.
The colors are still bright colors but does has some wear. This is to be expected in a Scroll paintings since they were rolled and un-rolled over the past 100 or more years. The scroll painting Thangka has a wood dow at the top and bottom and the silk has slight wear due to it's age. The piece is approx. 40" high x 23" wide and the painting itself is approx. 20" x 13".
If you have any questions or need more photos, please email me.

Detail photos Click to enlarge