⬅ Return to collection
Medical & Oddities : 1900-1940s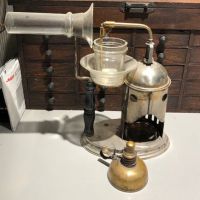 Circa 1890 Nebulizer Dr. Siegel Glass and Chrome with Original Oil Burning Lamp
Antique Nebulizer, circa 1890's, this one is almost identical to the Dr. Siegel's Nebulizer in shape, style and use.
The glass mouth piece and is mounted to a metal frame with black wood handle to hold up to your mouth. The back part of the device has an area to put the small oil lamp that heats the mixture and water to produce a steam to inhale.
The device is not marked or dated and no makers name.
Year: Circa 1890's

"In 1864 Dr. Siegel invented Siegle's steam spray inhaler that used the force of steam through a small tube to draw up the medicine and turn it into a vapour that is inhaled through a glass mouthpiece. The principle used here is similar to modern nebulizers, only now we use air instead of steam.
Siegel's invention is often considered the beginning of nebulizer therapy."

"The first nebulizer was actually produced in 1858 by a French inventor named Dr. Sales-Girons. His nebulizer was unique in that it had a pedal that acted like a bicycle pump, and when pulled up air was forced through an atomizer and a mist was created to be inhaled."


Size: 9 1/2 x 9 inches
Condition: fine with some wear to the chrome, no breaks or damage to the glass. Please see the images for more details.

If you have any questions or if you need additional images, please feel free to email me.
Note:
shipping cost is for US only, if you are an over seas buyers please email me your shipping address to get a shipping quote.
Detail photos Click to enlarge