⬅ Return to collection
[uncategorized]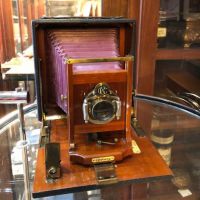 Circa 1900 5x7 Field Camera By Century Camera Co. Red Bellows and Three Plates
5x7 Plate Camera by Century.
Century was a camera company in Rochester NY. that made several types of plate cameras.
Their cameras had a beautiful wood with red bellows and were self containing.
This style were used by amateur naturalist, which was a big and growing trend in the beginning of the early 1900's.

Online Source:
"Century Camera Co. was founded in 1900 by three former employees of Rochester Optical Co..
The company achieved a high quality of its plate cameras, so that it had a 25% market share in 1902.
In 1905, the company was purchased by the Rochester Panoramic Camera Co.
In 1908 the company became Kodak's Century Camera Division which continued the brand Century until 1920."

The camera is working, folds and extends out and the shutter does work. The Shutter does seem to be slow when triggered.
I have not tested the shutter with accuracy and I have not checked the lens to see if it is crystallizing, it is not cracked!

Condition: Very fine with some minor soiling. The case does show some signs of use but is in remarkable condition. Please see the images provided for a visual description.

If you have any questions or need additional information, please feel free to contact me.

Noted:
Overseas buyers please email me for shipping quote, please provide me with a shipping address and postal code.

Online source:
"...constructed of wood, leather, brass and glass, this style of camera is often termed self-casing. This is because the entire mechanism folds into a protective and compact box that is easy to carry. Other terms used to describe cameras of this design are field, view and folding.. Folding makes sense - because the camera folds up. The term field is used to describe a large format camera made to be easily carried outdoors for use in the field. View refers to a camera where the lens and/or back can be adjusted from parallel dead-center allowing the photographer to vary the scene's perspective.."
Detail photos Click to enlarge