⬅ Return to collection
Jewelry : 1900-1940s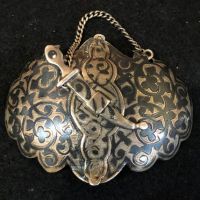 Circa 1900 Imperial Russian Silver .875 and Niello Caucasian Cossack Buckle Marked 84 with Hallmarks
Circa 1900 Imperial Russian Silver and Niello Caucasian Cossack Buckle

In 1896 was introduced a mark with a female head silhouette facing left and silvers fineness expressed in zolotnicki inside an oval oblong or a circular cartouche. On the right side were inscribed the assayer's initials in Cyrillic characters.
Marked on the back the silver Hallmark of the Russian Silver maker, 84 with Head Facing Left and marked with Liba Oleksa,
Kiev
The Cyrillic mark of Joseph Shmidyevsky, Tiflis, 1903-1904

A Kokoshnik is "a traditional Russian head-dress worn by women and girls."
And ….."during the revival of Russian national culture in the late 19th century, these diadem-shaped tiaras became part of the official court dress for royalty and ladies-in-waiting."

The Silver is a .875 silver mark and uses a Niello finish,…"Niello is a black mixture, usually of sulphur, copper, silver, and lead,[1] used as an inlay on engraved or etched metal, especially silver. It is added as a powder or paste, then fired until it melts or at least softens, and flows or is pushed into the engraved lines in the metal. It hardens and blackens when cool, and the niello on the flat surface is polished off to show the filled lines in black, contrasting with the polished metal (usually silver) around it."

Size: 2 1/4 x 2 7/8 inches
Condition: very fine with very minor signs of use but has consistent wear for the age. No breaks on the metal. Please see the images provided for a visual description

If you have any questions or need additional information, please feel free to contact me.

Noted:
Overseas buyers please email me for shipping quote, please provide me with a shipping address and postal code.




Detail photos Click to enlarge