⬅ Return to collection
Snapshots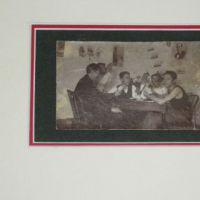 Circa 1900 Snapshot of Men Drinking and Playing Cards Mounted on Board William Jennings Bryan
This great snapshot of men at a table playing cards and drinking.
You can see this is a posed shot, with bottles of liquor up to their lips, but they have obviously been at "it".
On the right side of the image you can see a lithograph of William Jennings Bryan, which the images appears to be a campaign style poster. If this is the case it would put this photo at 1900 or at the latest, 1908 which was his second and last run at the Presidential office.

Size: 2 1/2 x 4
Condition: slight surface marks, the photo has been trimmed and mounted to board.

If you have any questions or need more images, please feel free to contact me.


Detail photos Click to enlarge