⬅ Return to collection
Medical & Oddities : 1900-1940s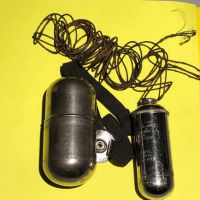 Circa 1906 Quack Medical Device Dr. H. Sanche & Co. Oxydonor No. 2 Cures All Your Problems
Dr. H. Sanche & Co. Oxydonor No. 2
The device has the original outer case and the original wires with the metal attachment, which also bares the name of the Dr.
This great and detailed and decorated quack device was "The user was required to place the central metal tube, or "Vocor", in a jar or bucket of iced water and then attach the the contact disk on the client's ankle. Through heat transfer, the user simply felt a chill."

Regardless if it or did not work, this is such a great looking quack medical device.

Size: 3 3/4" Outer Case The Oxydonor is approx. 3 1/2"
Condition: minor wear to the outer case. The wire are worn but intact and the elastic band is stretched. Minor surface marks on the Chrome, please see the images provided for a visual description.


"…decorated nickel plated cylinder is marked "Oxydonor No. 2, manufactured by Dr. H. Sanche & Co., Montreal, Canada, VICTORY, Diaduction Rules Life." The Oxydonor is a pseudotherapeutic device invented at the turn of the 20th century by Sanche, which he claimed could be used to treat cholera, constipation, hay fever, arthritis pain, and 80 other conditions. In 1915, a fraud order was issued against Dr. Sanche & Co., of New York, Rochester, Chicago and Detroit. He soon evaded this setback by marketing his devices from Montreal"

If you have any questions or if you need additional images, please feel free to email me.

Note:
shipping cost is for US only, if you are an over seas buyers please email me your shipping address to get a shipping quote.
Detail photos Click to enlarge