⬅ Return to collection
Medical & Oddities : 1900-1940s
This item has been sold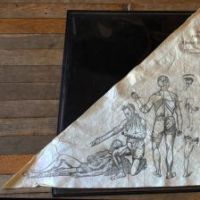 Circa 1910's Esmarch Triangular Bandage Johnson and Johnson Printed Medical Applications
Esmarch Triangular Bandage Johnson and Johnson

" Friedrich von Esmarch, professor of surgery at the University of Kiel, Germany, and is generally used in battlefield medicine. Esmarch himself had been Surgeon General to the German army during the Franco-German War. It consisted of a three-sided piece of linen or cotton"

The bandage has illustrated directions printed directly on the bandage served a dual purpose, no lost directions and the instructions were accessible in every language, a visual language.
Johnson and Johnson in the early 1900's, founded in New Brunswick, New Jersey in 1886, printed illustrations of use directly on the bandages and maintained the "Esmarch" name on the packaging.
This bandage is from this period, circa 1910-1920's.

Size: 50" x 24 1/2"
Condition: Un-used and in good condition with slight staining. The item has been stored, rolled in tissue for many years and has some wrinkling. Please see the images provided for a visual description.

If you have any questions or need additional information, please feel free to contact me.

Noted:
Overseas buyers please email me for shipping quote, please provide me with a shipping address and postal code.

Detail photos Click to enlarge