⬅ Return to collection
Antique Accessories : 1900-1940s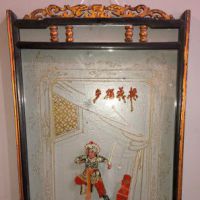 Circa 1920's Canton Painted Glass Panel from Large Lantern Canton Red Swordsman
Circa 1920's Canton Painted Glass Panel from Large Lantern.
Sadly not a complete lantern but these rarely seen export pieces have not survived but this panel has.
From a old antique dealer, they saved a few pieces from their old store, a swordsman floats in the center of the glass with slight gold thin lines for the interior.
The Red, coral red is typical of the Canton Reds from late 1800's to early 1900's stands out boldly, while the blue and gold make the figure's detailed clothing jump off the glass. The Glass has small bubbles giving the indication of the age.

The wood frame is a stylized dragon on the top and the edges have angle fittings where the other panels would connect.

Size: 23 1/2 x 13 1/4 wood inches
11 3/4 x 18 glass

Condition: The glass is not chipped or broken, some wear to the finish on the wood. Please see the images provided for a visual description.

NOTE:
Due to the fragile nature of the glass, extra shipping cost will be needed and or pick up.
Please email me for a shipping quote or for pick up.

If you have any questions or need additional information, please feel free to contact me.

No over seas shipping.

Detail photos Click to enlarge