⬅ Return to collection
Photogravure
This item has been sold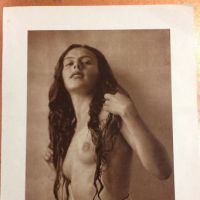 Circa 1920's Photogravure Nude of Woman Ethnographic Nude Series
Circa 1920's Photogravure Nude of Woman Ethnographic Nude Series


Size: 8 ¼ x 10 7/8 inches

Condition: near fine with slight edge bumps. The image is near perfect

Subject: from a series of ethnographic nudes, circa 1920's
a young woman topless with wet hair. The image is crisp and the tones are indicative of the photogravure technique. Please see images for details

From the Website "Art of The Photogravure" :

"The history of photogravure also parallels the history of photography's struggle to be recognized as a fine art. Photographers like Peter Henry Emerson, Alfred Stieglitz, Alvin Langdon Coburn and Paul Strand made it their mission to open the eyes of the western world to the artistic potential of the medium of photography, and they relied on the supple and rich photogravure process to accomplish this end. Using photogravure they painstakingly produced books, journals and portfolios that enabled larger audiences, for the first time, to see and appreciate the aesthetic and artful capacity of photography. So enamored by the process, these photographers often chose photogravure for their own final prints."

If you have any questions or if you need additional images, please feel free to contact me.


Detail photos Click to enlarge