⬅ Return to collection
Snapshots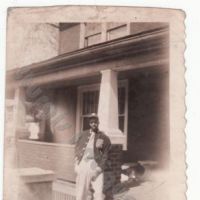 Circa 1930's-1940's Snapshot of African Amercian Baseball Player Negro League or College
A wonderful snapshot of Negro League and or early College Sports Baseball Player.
The back says, "Plug Boyd Baines P(pitcher and OF(outfielder)" This image was used for a newspaper, circa 1930's.
This estate of photos comes to me from the Pennsylvania area around Bethlehem.

Size: 2 1/4 x 3 1/2
Condition: worn edges, image is crisp and has not faded.

If you have any questions or need additional information, please feel free to email me.

Detail photos Click to enlarge