⬅ Return to collection
Historical Memorabilia : Posters : Mid-century
This item has been sold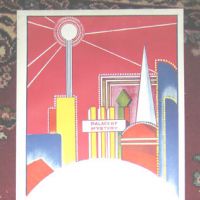 Circa 1950's Lithograph Carnival Circus Poster Death Defying Motordrome and Palace of Mystery
Over the past 6 months I have been working with Globe poster, the historical Baltimore Poster Co., to sell and find buyers for the 85 + years of poster and artifacts. The Company has been in Baltimore but have moved several times. Since they have been a fully functional poster company they have keep almost all of their back stock of working posters as well as their ability to make posters using their working old stock.
In going through Globe we have found an amazing amount of treasures in fields of Carnival, R&B and Auto Racing. I will be adding pieces to the site as well as ebaying items.
If you are interested in multiple items please contact me.
Approx. 14" wide x 42" long Carnival Circus lithograph poster of Death Defying Motordome and Palace of Mystery.
Printed in circa 1950's and is un-used, for Jack Auslet by Cross & Banta, Chicago.
The condition of these poster are very good with very minor chipping to the edges. The colors are still strong and bright on this very cool and interesting Carnival Poster.
Detail photos Click to enlarge