⬅ Return to collection
Mid Century Design : Mid-century
This item has been sold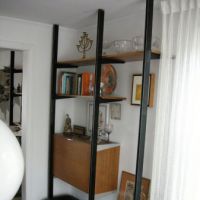 Circa 1960 CSS Herman Miller Wall Unit Bar & Bookshelf Original Finish 8 Foot Tall Poles
A new estate has just come in and so please excuse the lack of photos for these pieces. If you need more, please contact me.
Three CSS Wall Units, circa late 1950's early 1960's. Two are book shelves and one is a two part with Bar and Shelves.
All of the piece are in remarkable condition, the estate kept them in pristine condition.
The Poles are approx. 8' tall.

Size: The unit with the Bar/ cabinet
The cabinet is 13 1/2 deep and is 24 1/2 wide. The shelves next to this are 33" wide and the other one is 54". As you can see, the shelves hang over.