⬅ Return to collection
Art : Mid-century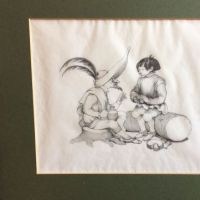 Circa 1960's Orignal Hand Drawn Childrens Illustration Estate of Theodora Keogh
Circa 1960's hand Drawn Childrens illustration.
Similar to illustrations done in the early 1900's in England and Germany. The very stylized almost whimsical characters lead me to believe this is a European inspired drawing.

NOTE:
The Estate that it comes from is from the famous Theodora Keogh (June 30, 1919 – January 5, 2008) who was married to Tom Keogh (1921–1980).
I have more information from the relative of Theodora.

The image is pencil on a thin drawing paper.

Size: framed 14" x 16"
Condition: Fine, the image is hinged in a matt.

If you have any questions or if you need additional information, please feel free to contact me.

Detail photos Click to enlarge