⬅ Return to collection
Jewelry : Medical & Oddities : 1800s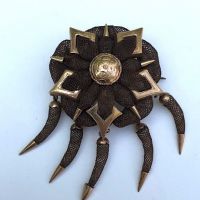 Civil War Hair Art Broach with Rose Gold Dated October 5th 1861 Memento Mori For A Soldier
Civil War Era Hair Art Brooch October 5th 1861 Rose Gold 12K Memento Mori
Civil War Hair Art Memorial broach with Rose Gold Dated October 5th 1861.
"Hair art, which could be used to commemorate the living or dead beloved, perfectly merges the fashion for mourning and sentimentality."
Hair Art Jewelry has was a way to remember past loves and current loves. A practice that gained notoriety and acceptance in the mid to last quarter of the 1800's but was .." around since the 17th and 18th century when the rise of infant mortality was climbing."
With the invention of photography, the case image that started with the Daguerreotype, people sometimes added fabric and hair of the sitter. A way to remember and immortalize that person. Many times these photos and mementos were done when someone was traveling great distance and for those going off to war or a possible adventure that could lead to a death.
Not a happy memory but it was a way to love someone from afar and to have piece of them.
The hair art is amazing and the piece is exceptional with the use of gold a 10-12K rose gold. The hair that is not braided or fixed around wire but is tied to have open space. Look at the detail of how the hair is stiff and strong enough to have a form. I can't believe the quality and craftsmanship of this item.
One special note is the date, October 5th 1861. war began when the Confederates bombarded Union soldiers at Fort Sumter, South Carolina on April 12, 1861.My client is from the east coast and while many regiments started in 1861, the 105th Pennsylvania Infantry Regiment was called up in October. This could very well be from one these soldiers going off to war.
Size: 2 1/2 inches tall x 1 1/2 wide.
Approx 6 pennyweight of gold and is 10 or 12K gold
If you have any questions or if you need additional images, please feel free to contact me.
NOTE:
If you are an over seas buyer, please contact me before purchase to get a shipping quote. Please include your mailing address.
Detail photos Click to enlarge