⬅ Return to collection
Historical Memorabilia : Military Memorabilia & Art : 1800s
This item has been sold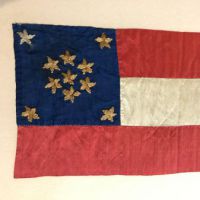 Civil War Era Parade Flag with Hand Written Documents Circa 1861
Sturgis Antiques is proud to have this Civil War Era Parade Flag, circa 1861.

This piece come with two documents and both stating the same story, as best as I can decipher.
The photo of the document on the far right reads:
"This Flag was hanged in the yard of what was 12 w. Read Street Down from Cathedral The House of Mrs Robert Lehn and was home ….(?) … Civil War"

Background on Civil War Parade Flags:
Civil War Era Parade Flag with hand written documents stating previous ownership and location of the flag. 11 starts indicated that the flag is First national flag with 11 stars (July 2 – November 28, 1861). Included are two hand written notes indicating the previous owner and where the item was. I can not decipher all the message but have made out Mrs. Robert Lehn was the original owner and this item hung in her garden, most likely as a parade and or support.

Size: approx. 4 1/4 x 7 inches
Condition: The small flag is tipped on a board, the top two corners are attached to the board. Minor fade to the cloth. Please see the images for details. If you need additional or specific areas photographed, please email me.

If you have any questions or need additional information, please feel free to contact me.

Noted:
Overseas buyers please email me for shipping quote, please provide me with a shipping address and postal code.
Detail photos Click to enlarge