⬅ Return to collection
Art : 1800s
This item has been sold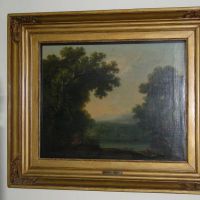 Claude Lorrain Style Early 19th Century Landscape at Dusk with Figures by The Stream
Claude Lorrain (c. 1600-1682) was a Baroque period artist working in Italy and widely known for his landscape paintings. His achievements in this field have warranted him many followers and students of his works. His use of drastic lighting conditions, especially at dusk and daybreak, can be seen in most of his work.

This piece is one from the mid 19th century and the artist used the style, techniques and almost the same composition as Lorrain. The way the artist framed the three figures on the river's bank with the trees. The way the dusk lighting illuminates the sky is so similar to Lorrain. The art gallery who framed the piece placed a label on the front that reads, "Claude Lorrain (1600-1682).
The piece has never been cleaned since this estate has had it, the piece will need to cleaned to reveal the figures and subtle details. The figures have started to disappear in the darkness and there appears to be a signature in the lower left side, but I cannot make it out.
The oil painting is on canvas and seems to have been backed with canvas and waxed. Please see the photos and if you need added photos, please contact me.

The estate inherited this piece from an older family member who bought the piece in the early part of the 1900's from an art dealer. The back is marked with a label from a Toronto art Gallery as well as pencil marks, the best I can make out as date 1850 and a name.
I have photographed this piece but it very difficult to make out.
In the meantime, please see the detail photograph I have included in the photo gallery.

The size framed is approx. 53" x 29" x 4" (deep). The canvas size is approx. 25" x 20".

The painting is in the estate and if you would like to view this item or want more images, please contact me.

Detail photos Click to enlarge