⬅ Return to collection
Antique Accessories : Historical Memorabilia : Medical & Oddities
This item has been sold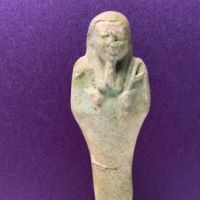 Clay Tomb Statue Egyptian Ushabti on Glued on Catalin Plastic Base
Clay Tomb Statue Egyptian Ushabti on plastic base.
The base is a Catalin Thermoplastic invented in the 1920' and used a easy plastic around the same time as Bakelite. Catalin was different from Bakelite, Catalin came in many colors like this butterscotch color.

A Ushabti is a funerary figurine used in ancient Egyptian funerary practices.
This one has very smooth surface, as if it was an applied skin, possibly for painting but there is no evidence of painting or pigments on this item. There is no paperwork or identification on the age or authenticity of this item. There are other pieces from the collection, my client was part of institutions and could have received this from a facility member at one of his many places he taught.
A quick overview of the Ushabti is:
"During the Predynastic and Early Dynastic Period there is some evidence of the sacrificial burial of servants with the deceased. However, this practice was quickly seen as unnecessary and wasteful, and instead symbolic images of servants were painted inside tombs to aid the deceased in the afterworld. This practice developed into the use of small statuettes known as Shabti (Shabtiu, Shabty, Shawabti, or Ushabti).
A Ushabti is a small human figure representing a person who would perform a given task for the deceased in the afterlife. The Amduat (underworld) included tracts of land granted to the deceased by the sun god Ra from which the blessed dead could receive their nourishment. Unsurprisingly, wealthy nobles and royalty did not plan on doing any work themselves and so they would take their (symbolic) servants with them.
Most of the Ushabti were made from various materials including; faience, wax, clay, wood, stone, terracotta and, occasionally, glass and bronze."
Size: 4 3/8 inches tall. Total heigh with the block is 5" tall.
Condition: The Ushabti has been broken and glued in two spots, at the center and the foot. The bottom repair appears to have been older, the glue has yellowed. The center break seems more recent, possibly in the last 20 or so years. The figure is very worn with not a lot of details left and the surface has chipping at the head and the center break. The two crossed scepters have chipping at the high parts. Please see the images provided for a visual description.
If you have any question or need additional images, please feel free to contact me.
NOTE:
International orders, please email me your shipping address before purchase with your address to get a shipping quote. The shipping price is for US buyers only.
Detail photos Click to enlarge