⬅ Return to collection
1st Edition : Out Of Print : Modern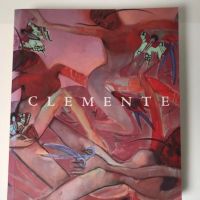 Clemente Published for Exhibition By Lisa Dennison Published by Solomon R. Guggenheim Museum 1999 Softcover Edition
Clemente
Published on the occasion of the exhibition CLEMENTE
By Lisa Dennison
Published by: Solomon R. Guggenheim Museum, New York
Year: October 8, 1999-January 9, 2000
Softcover Edition

A Short Overview of the Book:
"Francesco Clemente (b. 1952) has, since the 1980s, been a leading artist in the international revival of expressionist figure painting and sculpture. Clemente's subjects -- rooted in both the physical and the surreal, spiritual worlds -- create a vast body of work that appeals to diverse audiences. This stunning book is published to accompany a major retrospective exhibition.Clemente draws upon a pan-historic web of impulses, mediating among the myriad cultures of the ancient Mediterranean, Byzantium, Europe, India, and America. Stylistically his work recalls the Italian Renaissance, Indian miniatures, European Romanticism, Abstract Expressionism, and Pop Art. Clemente's widespread cultural interests and nomadic lifestyle -- New York is his home but he spends part of each year in Italy, India, and the New Mexico desert"
The exhibition book is one of the largest I have seen for a contemporary artist, 502 pages of Black and White but mostly Full Color Images of the artist's work.

Size: 9 3/4 x 11 1/2 x 2 1/4 inche thick
Condition: very fine with no markings inside. The binding is tight, there is slights signs of use, the spine has two lines where the book was open, this is due the weight and size of the book. The inside at the lines on the spine, there is slight signs of use. No pages are loose or damaged. Please see the images provided for details.
If you have any questions, please feel free to email me.

NOTE:
Due to the weight of the book, additional shipping may be will be needed for over seas buyers. The price quoted is for US buyers only, if you are an over seas buyer, please email me your shipping address before purchase to get a quote.
Detail photos Click to enlarge