⬅ Return to collection
Punk : 1970-Contemporary
This item has been sold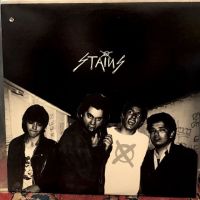 Collection of Naomi Petersen SST Photographer and Employee The Stains Self Titled Album 1st Pressing SST 10 1983
The Stains The Stains on SST 010 1st Pressing with Original pressing with 2.75" pressing ring indentation on labels.
From the Collection of Naomi Petersen
The Amazing and Very Rare Album by The Stains
"You may already know my sister's remarkable story. Naomi was a photographer, artist, SST employee, poet and friend.

She worked for SST from 1981-1987; employed as a bookkeeper, she was also the de facto photographer for the label - shooting bands like Black Flag, Circle Jerks, and the Minutemen. She also photographed most of the bands coming through Southern California in the 80s - Minor Threat, the Misfits, and many more - until she moved to Washington DC in 1989 and turned her lens to the metal scene and of course continued to shoot for friends. . Her work has been seen on album covers, inner sleeves, press photos - you may have seen her iconic images without knowing her name.
Her friendly, upbeat approach made her a favorite with local and touring bands, and she took portraits as well as promo shots and hundreds of relaxed candids; as her work spread through 'zines and covers, so did her reputation as an accomplished concert and band photographer.
What you are holding is from her collection of records."
All Records from Naomi's collection will come with a letter from her brother stating it is from her collection.
Naomi was an employee of SST and was close friends with all the bands and workers at SST This friendship and job gave her access to first pressing of all the records and the records posted are from her collection.

**The Records sold from Naomi Petersen collection will come with a letter from Naomi Brother authenticating that they are from her collection. All the money raised with go to preserving and archiving all of Naomi's rare images.**
Artist: The Stains
Album: S/T The Stains
Label: SST 10
Original pressing with 2.75" pressing ring indentation on labels and which does not have any additional Rainbo pressing. The runnout groove is SST-010-A EL NOCHE, LA CERVEZA, THE METAL, "THE SHAMAN", BRUTHA! - EL TOOMIS ⦿ L-15121

This record came directly from SST while Naomi worked in the office which see started in 1983, the year the album was released.
Condition: The Vinyl is NM- with a couple of very light hairlines on the vinyl, played and does not effect the playback or sound. The Sleeve is Vg+ and only because it has a cut out hole punch on the top left. The corners have the smallest edge bumps from Storage
If you have any question or need additional images, please feel free to contact me.
NOTE:
International orders, shipping will be $26. Please contact me before purchase if you are an International buyer. I will need to adjust the shipping price to reflect a correct shipping cost to you.
Detail photos Click to enlarge