⬅ Return to collection
Snapshots
This item has been sold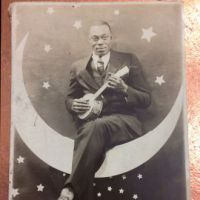 Collodin Print Real Photographic Postcard Circa 1920 of Musican with Banjo Uke With Shop's Stamp
A great photographic postcard, used for advertising.
Image on the front with stamped name of studio and address.

Baltimore Photograph of African American Musician playing a Banjo Ukulele, circa 1920's. Baltimore Photographer stamp on the back. Drechslers Photo & Music Shop 588 North Gay Street in Baltimore. Please see the images for more details.

Originally the 588 North Gay Street was a Photographer named, John A. Plumley Studio. Later Caspar Drechsler owned a Print Studio until his Death in 1933

Size: 3 1/4 x 5
Condition: Image is crisp with slight fade at the top of the image. The back shows signs of were the photo was mounted in a album with glue and paper remains. Please see images for details

Banjo Uke and or Banjo Ukulele: "The instrument achieved its greatest popularity in the 1920s and '30s, and combines the small scale, tuning, and playing style of a ukulele with the construction and distinctive tone of a banjo, hence the name. Its development was pushed by the need for vaudeville performers to have an instrument that played with the ease of the ukulele, but with more volume."

Detail photos Click to enlarge