⬅ Return to collection
Antique Accessories : Historical Memorabilia : 1800s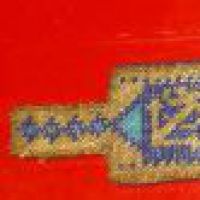 Commemorative Glass Beaded Watch Fob, Circa 1877 Dated 1827 with Luther Hazzard
A watch fob with a date of 1827 and the name Luther Hazzard in near perfect condition is a commemorative of founding of the town of Sullivan County New Hampshire. According to the town's website:
"Sullivan County is located in the West Central area of New Hampshire and was named after Brigadier General John Sullivan (1740-1795), a Revolutionary War hero. On July 5, 1827, Sullivan County came into being. Prior to its founding, Sullivan County was part of Cheshire county."
According to the family history, James Hazzard was born in New Berry Mass. In 1759 and went into the army at the age of 16 and fought in the battle of Bunker Hill. He married in 1787 and moves to the county of Chesire and had 11 children with Luther being born 1804 and he moes to New York later in life to be a teacher.
The Fob was most likely an aniversry of the founding of the town of Sullivan giving us the date on the fob of 1827.
At the time, the Hazzard family was one of 20 family living in this early town.
The fob is a remarkable piece of watch history as well as a wonderful artifact of New Hampshire history.
Size: 8" long x 1" wide
If you have any questions or need additional photos, please feel free to call or email me.

Detail photos Click to enlarge