⬅ Return to collection
1st Edition : Mid-century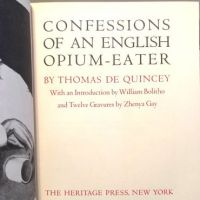 Confessions of An English Opium Eater by De Quincey Heritage Press Illustrated by Zhenya Gay Slipcase 1950 Edition
Confessions of An English Opium Eater by De Quincey Heritage Press 1950
Title: Confessions of An English Opium Eater
By: Thomas De Quincey
Illustrated By: Zhenya Gay
Published by: Heritage Press
1950 edition with Slipcase.
Heritage Press did a special edition of the is an autobiographical account of the author who's addiction to Laudanum and its effects on him and his life. Originally released in a private and anonymously in 1822 the book became a very popular was reissued with the authors name in 1856. The book has come in and out of print over the years and with every edition there has been an attempt to illustrate this nightmare the author writes about.
In the 1950 edition by Heritage Press, the illustrator is Zhenya Gay, "a famous childrens book illustrator and animal lover. She was also the long time companion and lover of Helen Reitman, aka Jan Gay. The couple met in about 1927 and began collaborating on children's books in 1930. Eleanor briefly took Helen's surname of Reitman as her own before the couple changed both of their names to Jan and Zhenya Gay in about 1929. They lived together in New York until at least 1933 and established a nudist colony together in Highlands, New York."
Zhenya began writing and illustrating books for children and this became her specialty. Some of her most famous works include Pancho and His Burro (1930); The Shire Colt (1931); Sakimura (1937); Manuelito of Costa Rica (1940); Look! (1952); Jingle Jangle (1953); and Who's Afraid? (1965). She also illustrated the works of many other authors including Thomas De Quincey's Confessions of an English Opium-Eater in 1930; Oscar Wilde's Ballad of Reading Gaol in 1937; Walt Whitman's There Was a Child Went Forth in 1943; and Christine Von Hagen's Pablo of Flower Mountain in 1956.
Size: 11 1/4 x 8 1/4 inches
Condition: The book is in very perfect and almost unread condition. There is a slight fade to the cloth spine. The binding is tight and no marks or damage inside or on the outside of the book. Includes the Heritage insert page. The slipcase is Very Good condition with exception of some shelf wear to the edges and some damage on the right edge of the slipcase. Please see the images provided for more details. If you need more images, please email me and I will be happy to send you more images of the slight wear.
If you have any questions of if you need more images, please feel free to contact me.

Note:
Over seas buyers, please contact me with your shipping address to get you a shipping quote.
Detail photos Click to enlarge