⬅ Return to collection
Mid-century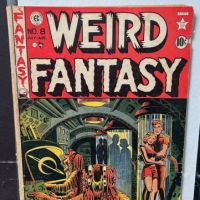 Cover by Al Feldstein Weird Fantasy no. 8 July 1951 published by EC Precode Horror Comic
**Sames Estate as the Pre Code Comics listed**
Title: Weird Fantasy no. 8
Date: July 1951
Pub by EC Comics
Condition: Cover has good color, rubbing and soiling on the left side, spine edge. Pulling at the staples and is firmly attached. Right edge at top has small chip and bottom right has light mend marks Soiling on the top portion with a small K iin pencil in the D. Back has soiling and the book is slight cocked. Stain on the left side in two places and goes slightly into last page. Binding and the pages are clean with light signs of use and the colors are still strong.
"Cover by Al Feldstein. Stories by Wally Wood, Bill Gaines and Al Feldstein. Art by Jack Kamen, George Roussos, Wally Wood and Al Feldstein. EC's influential New Trend series is considered one of the greatest science-fiction titles of all time. Two scientist brothers seeking the ancient ancestors of humanity find unexpected answers in a time warp and a mysterious lost world on the Moon. A scientist's assistant and his cheating wife plot to use his experimental new teleporter to commit the perfect murder. In the distant future, humans learn a horrifying secret about the cute little monkey-like Mokos, with charming art by Wally Wood. The Origin of the Species; It Didnt Matter; The Slave Ship; The Enemies of the Colony. 36 pages, Full Color"
If you have any questions or need additional information, please feel free to contact me.
Noted:
Over seas buyers please email me for shipping quote, please provide me with a shipping address and postal code.
Detail photos Click to enlarge