⬅ Return to collection
Mid-century
This item has been sold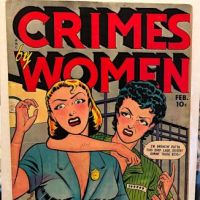 Crimes by Women February No. 11 1950 Published by Fox True Crime Comic Pre Code
Pre Code Comic Crimes by Women February No. 11 1950
**Sames Estate as the other Pre Code Comics listed**
Title: Crimes By Women No. 11
Date: February 1950
Pub by Fox
Fox as also called Fox Feature Syndicate, started in 1930's and was one of the early pre code comics to emerge and had some of the greatest or future great artist of the comic world work and create for the publisher.
Their series of true crime and violent crimes was a big seller and remained popular until the rise of the super heroes took over
Condition: he cover is VG+ with slight bump on the lower right and pencil mark in the center of the cover but colors are bold and strong. The Back cover has minor soiling and only slight marks at the staples. There is pen marks on the bottom of the page with slight abrasion to left side. The Binding is Vg with a few pages in the center showing signs of weakening on the top staple.
If you need more image please tell me what areas you need photographed.
"Fox Feature Syndicate creates a pre-Code title guaranteed to provide lurid covers and art, as women both historical and fictional commit murder and other heinous acts. Clara Dixon uses her skill at the bow and arrow to aid her brother, a corrupt cattle dealer in the Old West; Wanda Bailey is tracked by cops and gangsters alike after she kills a fellow crook and takes a fortune in jewels for herself; Embezzler Myra Teggert gets in a tight spot when her boss's wife thinks she's having an affair with him. Bow-and-Arrow Killer!; Fingers of Death; Poppy in the Jungle; The Imperfect Alibi! 32 pages, Full Color. In order of appearance: "Bow-and-Arrow Killer!"; "Fingers of Death" reprinted in Vixens, Vamps and Vipers SC (2014 EA Press) Lost Villainesses of Golden Age Comics #1-1ST; and "The Imperfect Alibi of Myra Teggert!!". "Poppy in the Jungle" text story"
If you have any questions or need additional information, please feel free to contact me.
Noted:
Over seas buyers please email me for shipping quote, please provide me with a shipping address and postal code.
Detail photos Click to enlarge