⬅ Return to collection
Daguerreotype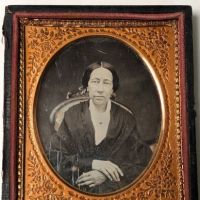 Daguerreotype of Old Woman Hand Colored Unknown Photographer Possibly Baltimore Daguerreotype
Daguerreotype of Old Woman Hand Colored Unknown Photographer
This image and other came from a collection of Baltimore images, Pollock, John Jones, Harvey Marks and others and this one can possibly be another Baltimore Daguerrotype photographer.
This Case image has beautiful clarity and is crips and sharp, what you expect in a a good dag. The image is of a older woman witting with crossed arms. She sits in a high back chair and leans forward slightly. The daguerreotype is hand tinted, the hands and the face and the shirt have very nice tinting allowing the image to jump out.
The
Size: Sixth Plate 2.75 x 3.25 inches (7 x 8 cm)
Condition: The image is clear but can see some slight marks on the plate and slight tarnish at the edges. The image is tight in the case and can not remove to see if the seals are bad but there is a mark on the left side that might suggest they are gone and allowed something to drip. The case is missing the lid. Please see the images for more details.
If you have any question or if you need additional images, please feel free to email me.
NOTE:
The shipping price is for US buyers only. If you are an overseas buyer, please contact me before purchase with your shipping address to get a quote.
Detail photos Click to enlarge