⬅ Return to collection
Daguerreotype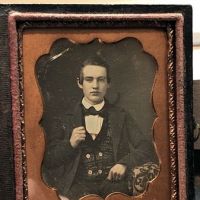 Daguerreotype of Young Dandy Posed with Style Two Pinky Rings Ninth Plate Size Case Image Labeled Tyler and Co Boston
Daguerreotype of Young Dandy Posed with Style Two Pinky Rings Ninth Plate Size Case Image Circa 1854
Labeled on the back Tyler & Co.
This young man, at the age of he wants to care, dresses up and shows off his best style. Each hand has pinky ring, his vest is stylish and not a stuffy old man's clothing but very hip and contemporary. He poses with hand holding his lapel of his jacket again giving an air of confidence and class and attitude.
The back of the plate has a photographer's paper label, Tyler & co. Cor. of Winter & Washington Street Boston. The label also states the image was taken with a Double Camera.
Tyler & Co. was reported to be at this address and was Active 1854-1855. The location was taken over by Abner Taber in 1855 and used the small label with his name instead of Tyler. There are other locations and states for Tyler & Co. but not known if it is the same photographer.
No marks or names identifying the sitter.
Size: Ninth Plate 2 x 2.5 inches
Condition: The image is very good with crips details of the young man. The hand Tinting is great. The back of the daguerreotype and the label are in remarkable condition. The case is good but is missing the velvet pad on the opposite side of the image. Please see the images for more details.
If you have any questions or need more images, please feel free to email me.
NOTE:
The price listed is for US. If you are an overseas buyer please email me your shipping address before purchase to get a shipping quote.
Detail photos Click to enlarge