⬅ Return to collection
1st Edition : Modern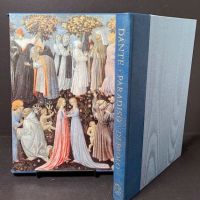 Dante Paradiso Illustrated by Giovanni Di Paolo Hardback with Slipcase Published by The Folio Society 2009
Dante Alighieri Paradiso Illustrated by Giovanni Di Paolo
Translated by Henry Francis Cary
introduction by Michael Prodger
Hardback with Slipcase
Published by The Folio Society
2009
The Folio Society's amazing printing and publishing of classics again shows in this continued series of classic illustrated literature. Beautiful full color prints of the illuminated images by Di Paolo who was "was an Italian painter, working primarily in Siena, becoming a prolific painter and illustrator of manuscripts, including Dante's texts. He was one of the most important painters of the 15th century Sienese School."

The book, like others I have posted are Hardback with 1/4 leather with gilt lettering on the spine and blue moire silk. The top edges of the pages are painted edges. The slipcase has a tipped on cover.

Size: 9 1/4" x 13 1/4"
Condition: As new. The book is almost perfect with almost no signs of use or wear. The slipcase is near new, with a small blemish on the back of the case. No marks or writing on or in the book and the binding is perfect.

If you have any questions, please feel free to contact me.
Note:
Overseas buyers please email me for shipping quote, please provide me with a shipping address and postal code.

Detail photos Click to enlarge