⬅ Return to collection
Mid-century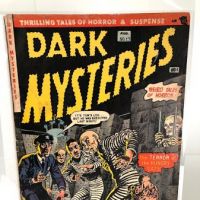 Dark Mysteries No. 13 August 1953 Published by Masters Publications Pre Code Horror Comic A. C. Hollingsworth and Jon D' Agostino Art
Dark Mysteries No. 13 August 1953 Published by Masters Publications
**Sames Estate as the other Pre Code Comics listed**

Title: Dark Mysteries No. 13
Date: August 1953
Pub by Masters Publications
"Horror of Mixed Torsos," "The Curse of the Shooting Star!" (art by A.C. Hollingsworth), "Ghosts on Chomolungma," and "Death While the Cat's Away."
A. C. Hollingsworth and Jon D' Agostino art.

Condition: The Cover is VG with small wrinkle on the lower right, top edge has some wear and water marks. The left side has chip on top edge and some wear. Indentation on the top right of the cover and some soiling on the cover. The back cover has slight soiling. The Binding is Vg with the cover being pulled and off at top staple, bottom is attached. First 4 pages have slight water marks on the top edge.
If you have any questions or need additional information, please feel free to contact me.
Noted:
Over seas buyers please email me for shipping quote, please provide me with a shipping address and postal code.
Detail photos Click to enlarge