⬅ Return to collection
[uncategorized]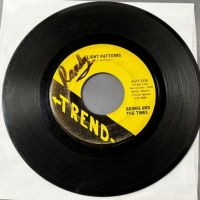 Dennis and The Times Flight Patterns b/w Just If She's There on Trend Norfolk Virginia Garage 1967
Dennis and The Times Flight Patterns b/w Just If She's There on Trend 1036.
The band was from Norfolk Virginia, the band had the psych style, the A side is very Byrds. Pictures of the band, they have Vox guitars, Rickenbacker guitars and great Mod/ Freak Beat haircuts.
The single was on Trend, a Georgia label that had a huge release catalog.
A sought after single that has been on so many early and great comps.
SIDE 1

SIDE 2


Condition: Vinyl is VG, visually both sides have marks on both sides, no Tracking Issues on either side. SIDE 1 plays with low crackle, below the music, still excellent tones and clear. SIDE 2 plays and sound equal. Labels are low Vg+, good color and light rubbing at high point on both sides. Both sides have writing on the label. Sleeve is generic white.
If you have any questions or if you need additional images, please feel free to email me.

Note:
shipping cost is for US only, if you are an over seas buyers please email me your shipping address to get a shipping quote.
Detail photos Click to enlarge