⬅ Return to collection
Punk : 1970-Contemporary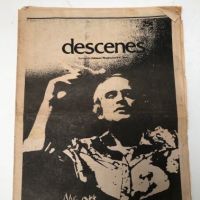 Descenes Volume 1 Number 1 DC Punk Underground Newspaper 1979 Pub by Tina and Howard Wuefling
Year: 1979
Published by: Howard Wuefling
Articles on Jad Fair and Half Japanese, Article on White Boys (Mr. Otto) An amazing family tree of the DC Punk Music Underground as of 1979! Live show listing and reviews Urban Verbs, Slickee Boys
History:
"Published by:
"Howard Wuefling, who played bass in the Slickee Boys, moved from Pennsylvania to DC in 1974 to start a career in music writing. At the that time, the only non-mainstream publications in the area were alternative newspapers like the Unicorn Times, which covered the underground music scene and some politics."
During a visit to New York City in 1976, Wuefling picked up a copy of New York Rocker, a slick fanzine where musicians wrote about other musicians (The Ramones, Talking Heads, and Patti Smith were featured in the first issue). It inspired him to adapt the idea for the DC music scene. He named it DeScenes ("I have a love for bad puns," he says). Record stores in DC and in the suburbs sold it for 25 cents.
"Starting around 1980, DeScenes evolved into DisCords, which included "scene reports" from other cities. Punk kids would send letters into DisCords describing the state of punk in their hometowns. Wuefling says it became a way for music geeks around the country to exchange ideas and take part in a larger community."
An amazing 12 page newspaper print with interviews, scene report and reviews of the burgeoning DC Punk scene."

Size: 11 1/2 x 15inches
Condition: Fine with fold mark through the center. Corners have bumps and edge curls. Small tears the top edge left and small edge tears on the bottom edge, Very Minimal. Light signs of use and storage but no damage or tears to inside. Please see images for details.

If you have any question or if you need additional images, please feel free to contact me.





Detail photos Click to enlarge