⬅ Return to collection
1st Edition : Out Of Print : 1900-1940s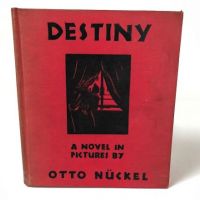 Destiny A Novel In Pictures by Otto Nuckel 1930 Hardback 1st Ed. Pub by Farrar Rinehardt Wordless Novel
Destiny A Novel In Pictures by Otto Nuckel 1930 Hardback 1st Ed
In the 1920's-1930's the wordless book was a style of expressionist and creativity that many artist were working with, like the Artist Lyn Ward. These books told a story in woodcuts, details of the stories that allowed the reader to see the story being told. This of course was what the comics, then and now do but this was a step beyond, no words just dark and dynamic images.
Nuckel was considered one of the creators of this style of wordless books.
Otto Nückel (Cologne, 6 September 1888 – Cologne, 12 November 1955), he first published Destiny in 1920's in Germany, …"the book inspired American artist Lynd Ward to tackle the medium, beginning with God's Man in 1929. Ward's success brought about an American publication of Destiny in 1930 which sold well. The book has impressed critics and has become one of the best-known wordless novels."
What separates this book and artist from the others is the use of Leadcut instead of the traditional woodcut other artist used. The leadcut gave more depth to the images and gave a sharper and rigid stark look to the images.
Title: Destiny
By: Otto Nuckel
Publisher: Farrar & Rinehard
Year: 1930
Hardback book, no DJ. The dark red boards with a imprinted black title and image on the front.
Story:
"The book follows an unnamed woman in a German city in the early 20th century who lives a life of poverty and misfortune. She is the constant victim of her society—especially the men, such as her drunken, abusive father, and the traveling salesman who gets her pregnant. She is imprisoned for the murder of her unwanted child, and upon release turns to life as a prostitute. The police hunt her down after she murders a man with an axe, and as she jumps from an upper-floor window they shoot her dead."
Size: 7 x 8 inches
Condition: Fine with some signs of use, the binding is fine. The spine has some slight fading to the red but the cover and back are a deep red color cloth. One page has a tear, this is on one page and does not effect the image area. Slight discolor, water mark on the edge of the paper edge about mid way. The red cover has slight soiling and the back has slight soiling and some signs of shelf wear. Please see the images provided for a visual detail.
If you have any questions or if you need additional images, please feel free to email me.
NOTE:
The price for shipping is for US only, if you are an over seas buyer, please email me before purchase to get a shipping quote. Please provide me with a mailing address when you email me.
Detail photos Click to enlarge