⬅ Return to collection
Mid-century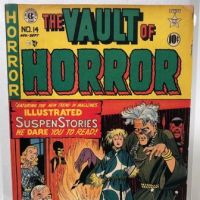 Early and Rare Precode Horror The Vault of Horror No 14 August 1950 published by EC Comics Cover by Johnny Craig
**Sames Estate as the other Pre Code Comics listed**
Title: The Vault of Horror No 14
Date: August 1950
Published by EC Comics
"Cover by Johnny Craig. "Voodoo Vengeance!", script and art by Johnny Craig; Caleb left work early for a change, but on his way to the parking garage, he notices an antique shop he had never seen before, so he drops in to get something for his wife Sally; The weird proprietor tries to interest him in a voodoo doll. 'Werewolf," script and pencils by Harry Harrison, inks by Wally Wood; Viktor Zorak is on a mountain-climbing expedition in Transylvania with the Smythe's and the Farnum's, all of whom are closely following their guide, Jan Bodzla; They reach the lodge they will stay in that evening, but the members are warned by Bodzla that he thinks Zorak is a werewolf and to be careful. "Rats Have Sharp Teeth!", script by Henry Kuttner, art by Graham Ingels. "Escape!" text story by William M. Gaines. "The Strange Couple!", script and art by Al Feldstein; A man is driving on a stormy night along a road when he is stopped by a state trooper, who tells him that the bridge ahead is washed out and he needs to take a side road instead; A weird couple inhabit the place; The man tells him that his wife is a crazy ghoul and she tells him that her husband is a vampire."
Condition: Cover is very good with very light chipping at the right edge, top and bottom, a very light toning to the top edge. Spine edge is amazing and very clean. Back has light toning at the top and right side, very slight. Binding is tight with crisp and vibrant colored pages inside. No inside damage. Please see the images for more details.
If you have any questions or need additional information, please feel free to contact me.
Note:
Over seas buyers please email me for shipping quote, please provide me with a shipping address and postal code.
Detail photos Click to enlarge