⬅ Return to collection
Daguerreotype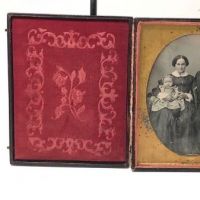 Early Half Plate Daguerrotype by Harvey R. Marks Blind Stamped Baltimore Photographer Circa 1850
A Very Early Half Plate Daguerrotype by Harvey R. Marks Blind Stamped Mat Image of Man and Wife with Small Child Circa 1850
A Half Plate Daguerrotype of a small family, the man as you can see is older than the woman who holds a young baby. No information is know about the sitters. The mat is blind stamped on the bottom with "Marks".
According to online sources..MARKS, HARVEY R., daguerreotypist. 117 Baltimore (1848-November 1850); partner with Jacob Shew (April 1849-March 1850); 159 Baltimore (December 1850-1853); removed to 57 Dauphin Street, Mobile Alabama (1855-1858); Austin, Texas (1875); $1500 capital invested, 500 plates on hand, 3 male employees, $140 average monthly labor cost, 5000 likenesses produced yearly. CD, TS, AD, PP, USMC 1850. (see Jacob Shew) Labels: Blind-stamped on mat "MARKS"
In 1847 "Jacob Shew & Harvey R Marks initiated a partnership in 1847 which lasted several years. They won first prize for their daguerreotypes at the first annual Fair of The Maryland Institute in Baltimore in 1848 and .."Jacob Shew formed partnership with Harvey R. Marks who operated their gallery while Shew traveled to California (April 1849-1850); Marks assumed control of the studio (April 1850)"
As you can see, Harvey Marks was well versed in quality and the Daguerrotype process in Baltimore, making this family a notable and possibly an important Baltimore Family.
Size: Half Plate Case image 4.25 x 5.5 inches
Condition: The image is in strong and very good condition, slight and small pinhole marks on the plate on the top right and some tarnishing to the right side, Please see these details in the images. The Mat has some spots and deterioration and the Blind Stamp is slight hard to read. Case hing is detached with some wear to the outside and edges of the case. The image will need to be resealed, some marks on the underside of the glass. The image is slightly fogged. Please see the images provided for more details.
My client was researching Baltimore Photographers in the 1970's and bought and stored this image in its original mailer, dated 1977. Please see the images.
If you have any questions or need more images, please feel free to email me.
NOTE:
The price listed is for US. If you are an overseas buyer please email me your shipping address before purchase to get a shipping quote.
Detail photos Click to enlarge