⬅ Return to collection
Antique Accessories : 1900-1940s
This item has been sold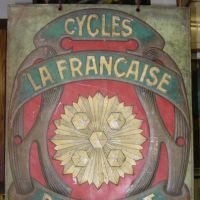 Early 1900's La Francaise Diamant Antique Lithograph Metal Sign Bicycles and Motorcycles Advertising
A company from France that made early Bicycles and Motorcycles, circa 1900's, La Francaise Diamant. This relief and lithograph metal sign was printed by Metalgraf Milano, please see the photos for an exact visual description.
The company was best known for early Motorcycle production that used a small motor by a French Company called AMC, or Ateliers Mécanique du Centre.

The printer is Metalgraf Milano, please see the photo for a visual description, lithograph tin with metal relief.
The sign is double sided and is the same image on both sides. The colors are sill strong but there are some dents and light abrasions on the the metal.
Year: Circa 1900

The sign is approx. 19 1/4" x 29 1/4".

If you have any questions or need additional photographs, please feel free to contact me.

Detail photos Click to enlarge