⬅ Return to collection
Antique Accessories : Folk Art & Outsider Art : Medical & Oddities : 1900-1940s
This item has been sold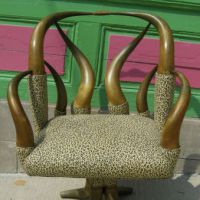 Early 1900's Steer Horn Arm Chair Adjustable Height
One of the iconic items in the eccentric collector and or Cabinet of Curiosity house, this early 1900's Steer Horn Arm Chair.

This great arm chair has an adjustable height mechanism, much like an office chair has.
The chair is wide and will fit the "big" collector too, approx 26" wide.

The mechanism for adjusting the height sits on the four horns and the chair is attached to the base by a large threaded rod.
As you can see the construction is nails and glue. The four horns that make the feet are fitted together with the plate as well as nailed and glued.
The chair is good condition, it has been reupholstered by my client several years ago. The base has one horn that is split. This will need to be fixed by someone, either a glue or an apoxy that can be used on natural material.
Please see the photos for a visual description.

Size: 35" tall (I have the chair lowered to the lowest position, it will go up another 6 inches or so) x 26" wide x 18 1/2" deep seat.

If you have any questions, please feel free to contact me.
This piece is a pick up or email me to organize special delivery options.


Detail photos Click to enlarge