⬅ Return to collection
Art : Historical Memorabilia : 1900-1940s
This item has been sold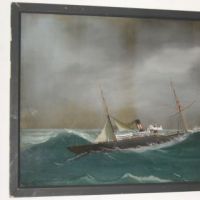 Early 1900's Watercolor of Merchant Steamer with Sails Named Bedale
An early 1900's watercolor of the Merchant Ship with the name Bedale on the bow. Information on Bedale is a town in England but also a merchant ship torpedoed in 6/10/17. There is a mention of a British ship Bedale used during WWII, but that is a later heavily armed war ship.
The center stack has the letter H and there is a record of the SS Bedale torpedoed in 1917 and the shipping company is Hessler Shipping Co., which could be what the H stands for on the stack.
There is more information under the boat, but is has almost disappeared and I am unable to discern what it says.
The painting is an opaque watercolor done on a paper and still has strong colors. The right side of the painting the watercolor is tin and the background of the paper is coming through. This is not damage but as the artist intended.
The frame is approx. 18" x 27 1/2" and the paper size is a bit small that that.
Please contact me before shipping to let me know if you want the piece shipped without glass. The glass does not appear to be old and in shipping there is a chance the glass would break and this could damage the art.
If you need any additional photos or need more information, please feel free to contact me.

Detail photos Click to enlarge