⬅ Return to collection
Art : 1800s
This item has been sold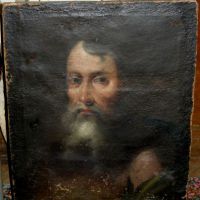 Early 19th Century Oil Painting of Bearded Man
This piece and other that I will mark in the descriptions are all coming from a Magnificent estate near Havre de Grace. If you have any question or wish to see more from this large estate please contact me.

Once again this estate has amazed me with the diverse and unique items it has in the house.
This early 19th c( early 1800's) oil painting of an old beaded man immediately struck me. The first impression was of a religious figure done in a colonial South American Style, but after hours of review I have started to lean towards a Flemish Style. Something about the face and check bones lead me in that direction, but that is the uniqueness about this painting.
The painting has paint lose, probably from the ground loosing it's integrity causing the paint lose. This was either due to moister or heat, but I feel it does not take away from the focus of the painting, the gaze of the man.
If you do decide to have the painting restored and conserved, I can supply you with an independent trained conservation estimate prior to shipping or pick up.
The canvas was larger at some point and appears to have been cut down to it's present size. The canvas is attached to what appears to be the original stretchers and tge canvas is a thicker weave canvas. Please see a detail of this.
I have taken several angles and different degrees of lighting to give my best visual description of the beauty and also the damage of this painting.
If you have any questions or need additional information, please contact me prior to your purchase.
The size is approx. 18" x 23"
Detail photos Click to enlarge