⬅ Return to collection
Mid-century
This item has been sold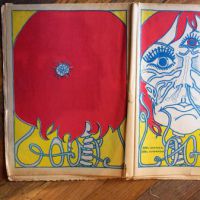 Early Hippie Counterculture Newspaper Montreal Logos Underground Newspaper 1969 JUNE Vol. 2 No. 1
Early Hippie Counterculture Newspaper Montreal Logos Underground Newspaper 1969 JUNE Vol. 2 No. 1

Such a cool newspaper, the layout, the colors and for the era a radical press.
This Montreal newspaper
Article about Lord Maudsley Circus. Two pages of record reviews. Review of Bob Dylan album "Nashville Skyline". Short review of album called "Children of the Sun", by Sallyangie.
Review of Tim Buckley album "Happy Sad". Review about Leonard Cohen Album "Songs From a Room". Review of the Incredible Strings Band two new albums "Wee Tam" and "Big Huge". Review about Pentangle album "Sweet Child". Article/review about the Montreal new Folk music place called the Back Door opening night with performances by Jesse Winchester, Penny Lang and Bruce Murdoch. Two page article by Aaron Howard who was incarcerated for two weeks in the Bordeaux jail. Article about poetry books of Michael McClure. Article about squatters in England.

Size: 23 pages with Cover
Condition: Fine with some small edge tears. The bottom right edge of the paper is yellowed from fingers. The paper is starting to get brittle but is still intact with bold and strong colors.

If you have any questions or if you need additional images, please feel free to email me.




Detail photos Click to enlarge