⬅ Return to collection
Press Photography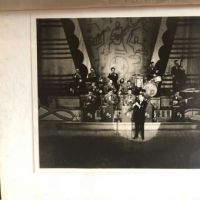 Early Press Photo Live Photograph Of Artie Shaw and Orchestra Circa 1930's Big Band Jazz
Artie Shaw & Orchestra
Circa 1930's
16 piece big band jazz from one of the biggest names in this era.
A great live shot with an amazing stage, look at that cool jazz drawing back drop.


This photo and others of early Jazz and big band era all come from the same client's collection, John Brown.
He was a drummer and also a Baltimore Jazz concert promoter.
Many of these images he got from his person friend, Frank Driggs of Columbia Records.

Many of the Photos are from Frank Driggs and where copied from his person and Columbia Archive. This Photographic copy of the original press photograph is dry mounted on cardboard with the a xerox of the name taped on the back of the board.
Please see the images for a visual description.

Size: 8 x 10 1/8 inches
10 1/2 x 14 1/8 inches board
Condition: fine, the photo has been dry mounted on board.

If you have any questions or if you need additional images, please feel free to contact me.

Note:
The shipping cost is for US only, all non US address will need additional shipping cost, please email me with your mailing address to get a shipping quote.

Detail photos Click to enlarge