⬅ Return to collection
Folk Art & Outsider Art : Medical & Oddities : 1900-1940s
This item has been sold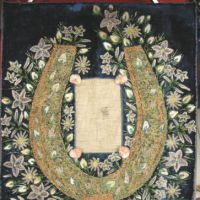 Eary 20th Century Luck Memorial Portrait Frame Hand Painted and Decorated Velvet Mourning Art
From a collection of Folk Art and Outsider Art from NYC.
Glenn Bristow has been an accomplished discerning eye collector for years. Her collection reaches many styles of folk art and outsider art that will not disappoint.
I will be posting selected items from her collection and I will note each piece that it is from her unique and wonderful collection.
A hand painted and decorated velvet memorial or luck photo portrait frame. The original photo is not with the piece.
The velvet is decorated with a painted horseshoe and accented with painted flowers. Four small pom poms are applied to the four corners of the picture area. It appears to be missing on pom pom on the lower section, please see the photo.
The paint and mixture has cracked but it is in remarkable condition still.
A small hole is on the top right area.
Size: 17" x 20.5"
If you have an y questions or need additional images, please feel free to contact me.

Detail photos Click to enlarge