⬅ Return to collection
Art : Folk Art & Outsider Art : Modern
This item has been sold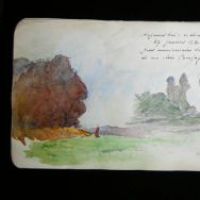 EDMOND HENRI ZEIGER DE BAUGY FULL SKETCHBOOK FROM PARIS FRANCE
PRICE JUST REDUCED

A wonderful collection of art has come into the store from a couple from Paris. They have collected art and note and merit for several years and they have given me the pleasure to help sell and manage some of their collection. This and other pieces from their collection will be noted in the description.
A part of their collection are several complete sketchbooks by a noted French Artist, Edmond Henry Zeiger of Baugy. Somewhat of an eccentric figure, he spent his life sketching and painting, as well as architectural studies. I have provided a small Bio of the artist:
ZEIGER OF BAUGY (Edmond Henry), (1895-1984), landscape architect and art writer, born January 2, 1895 Montreux (Switzerland Ec..)
Son of the art lover, Charles Zeiger, 1868-1927. Kin painters / Aloys Hugonnet, 1879-1938 and Alfred Chabloz, 1866-1951. Architectural Studies and Letters. Then devoted himself exclusively to painting. Student of the Academy of Vevey and the Ecole des Beaux Arts in Geneva. Worked in Rome in 1919-1920 and in Paris in 1921. Winner of the City of Paris and several international competitions. Works acquired by the Musée Carnavalet in Paris and several Swiss museums. A published an important study on the origins of pure landscape in France. (Bénézit).

This sketch book is from a later part of his life, 1980. The charm of his watercolors and his pencil sketches filling every page with a date and time of when he did them. Plus the added Cheese labels in the front and the back of the sketch book adds so much to his persona.

Please take some time to see almost every page. I sadly can not fit all the images on the website but I have photographed them all. If you want more images, please feel free to email me.


Detail photos Click to enlarge