⬅ Return to collection
1st Edition : Mid-century
This item has been sold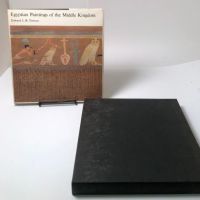 Egyptian Paintings Of The Middle Kingdom By Edward L. B. Terrace Published by George Braziller 1968 Hardback with Dust Jacket and Slipcase
Title: Egyptian Paintings Of The Middle Kingdom
The Tomb of Djehuty-Nekht
By: Edward L. B. Terrace
Published by George Braziller
Year: 1968
Hardback Edition with Printed Dust Jacket and original black Slipcase.
172 pages with color printed photos of the paintings discovered in the tomb.
"…the coffin of Djehuty-Nekht- for a prince of th eMiddle Kingdom. Uncovered in 1920, and universally admired for the exquisite series of painting which decorate its outer surface, the coffin is today proud possession of the Museum of of Fine Arts, Boston…"
The books is a remarkable and in-depth insight to this highly regarded artifact.
Size:
Slipcase is 12 3/4 x 12 1/4 inches.
Book is 12 x 12 1/2 inches
Condition: The book is very fine condition with minimal signs of use or wear. The binding is tight with slight signs of use, no markings inside the book. The Dust Jacket is in very Good condition with a small mark on the spine edge, a small abrasion can be seen. The DJ is unclipped and has bold and striking colors, no fading. The Slipcase has some marks and wear to the outside, light water marks on the slipcase and signs of shelf wear. Please see the images of the book and slipcase for more details.
If you have any questions or need more images please feel free to contact me.
NOTE: The price for shipping is for US buyers only. If you are an overseas buyer please contact me before purchase to get a shipping quote. Please provide me with your shipping address.
Detail photos Click to enlarge