⬅ Return to collection
Daguerreotype
This item has been sold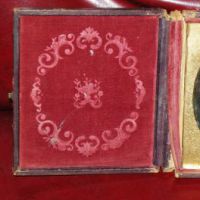 Eight Plate Daguerreotype of Young Girl Dressed In Her Best Cloths Circa 1840's
Eight Plate size, Daguerreotype of Young Girl Dressed in her best cloths. A very faint painted gold ring is on the little girl's thumb. The Daguerreotype appears to be early, circa 1840's-1850's.
The case design is a simple, not as ornate as later cases. The mat is a oval sandy finish mat which is mid-1840s.

Size: eight plate size, 2 3/4" x 3 1/4"
Condition: the left side of the case is split. the daguerreotype has started to oxidize on the right and lower section of the daguerreotype. The glass is also dirty and the seals are intact.

If you have any questions or need additional images, please feel free to contact me.




Detail photos Click to enlarge