⬅ Return to collection
[uncategorized]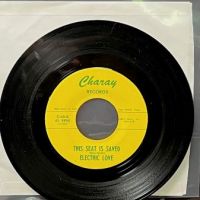 Electric Love This Seat Is Save b/w Gotta Get Back To My Baby on Charay Records 1968 Fort Worth Texas Garage Single
Electric Love – This Seat Is Saved on Charay Records – C-40
Released in 1968 (or there abouts) on Charay Records, a label from Fort Worth, Texas. The label was owned by "Major" Bill Smith who was all over the place with the bands he would release. He also would release the same band under different names and on another label he owned or co-owned. so pinpointing an exact date can be tough.
The band, Electric Love was from Texas, around the Forth Worth area but their sound was heavy fuzzed guitar with quick breaks that launch forward then quickly drop. It is one of the tops garage singles!

LISTEN HERE
SIDE 1

SIDE 2



Condition: Vinyl is solid VG+, close to NM- but only VG+ because a small and slight wobble. I have a light needle and it does not jump or miss a beat. Sound is close to NM- and is very clean with no surface or tracking issue. Label is Solid VG+, number 1o on one side. Both Sides play and sound equal. Sleeve is generic white.
If you have any questions or if you need additional images, please feel free to email me.

Note:
shipping cost is for US only, if you are an over seas buyers please email me your shipping address to get a shipping quote.
Detail photos Click to enlarge