⬅ Return to collection
[uncategorized]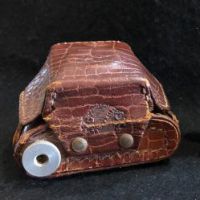 Eljy Camera Model Super Eljy was by Lumiere French 1938 Anastigmat Lypar F3.5 Len W/ Case
Eljy Camera Model Super Eljy was by Lumiere and comes with the leather case.
Made in French in 1938.
The lens is Anastigmat Lypar F3.5 Lens
The Eljy was introduced in 1937 and according to online sources.."Super Eljy was introduced in 1938 and had chrome trim. Production of the Eljy stopped in June 1940 by which time, according to the advertisement with this example, 25,000 had been made."

Specs:
Lens: f3.5, 4.2 cm Lypar, iris diaphragm to f20.
Shutter: Pivoted two-blade return, speeds 1/25 - 1/125, B, T. Self-capping. Everset.
Construction: Metal.
Format: 8, 24 x 36 mm exposures on 30 mm wide daylight loading roll-film.
Focusing: To 0.5 metre.
Attributes: Direct-vision (lens/lens) view-finder with parallax correction.
Film advance indicated by red window. Not coupled.

Size: 3 inches wide
Condition: The shutter works and the metal and black fabric is in very good condition. The Case is fine but does show some wear and use. The leather has not been cleaned or oiled so the leather may be some what dried out. The camera does work but will need to be cleaned and gone over by a professional. The film size is not made anymore so special film will need to be acquired for this to work.

If you have any questions or need additional information, please feel free to contact me.

Noted:
Overseas buyers please email me for shipping quote, please provide me with a shipping address and postal code.

Detail photos Click to enlarge